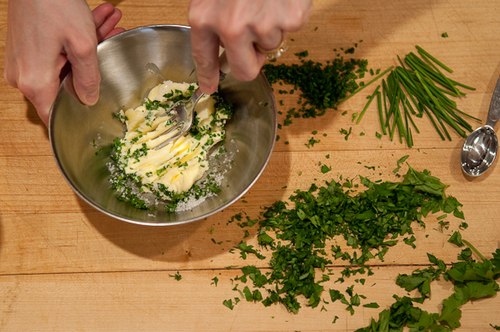 Full confession: When we shared ways to enjoy our favorite spring herbs last week, we purposefully left one major-league application off the list, so we could unabashedly devote an entire post to it. Compound butter is butter that is softened and creamed with other ingredients, typically herbs and aromatics, then often re-solidified. Of the foods that give powerful come-hither looks (suddenly every recipe with chocolate comes to mind), compound butter lands in the top five. There's something remarkable about how well compound butter preserves the flavor of the ingredients within (allowing you to reap more flavor from a smaller portion, if you're concerned) -- and it will stare back at you until you are overcomed with the desire to see just how good it is. Not buying it? See for yourself.
Creating the Compound
Bring unsalted butter to room temperature.
Prepare all the additions while the butter is softening and be sure to prepare each ingredient for being sliced and spread around -- bite-sized or smaller.
Gently mash the ingredients into the softened butter until well-distributed (you can use a food processor for larger batches).
Form a log with the amended butter, then roll it in plastic wrap. Or, heap the butter into a ramekin and cover with plastic wrap.
For perfectly round compound butter slices, borrow a technique used for cookies using parchment paper and a straight edge. Scroll down to the "slice and bake" section of this page to see how it's done.
Refrigerate or freeze the butter until ready to use.
Adding Herbs and Spices
Compound butters are the perfect vehicle for soft spring herbs -- try a combination of chives and tarragon for a decidedly French influence.
If adding heartier herbs like rosemary or sage, be sure to mince them thoroughly.
A pinch of smoked paprika not only tints the butter an orangey-red, but it provides a smoky bent that will add a little oomph to any grilled meat or vegetable.
Try a sprinkling of garam masala, za'atar, or a spoonful of roasted and crushed cumin seeds.
Adding Cheeses
Parmesan, cheddar, feta, or blue cheese should be finely grated or crumbled before being pressed into the butter.
A scoop of softened cream cheese or Brie (without the rind!) can be whipped into the butter for additional creaminess.
Adding Moisture
A splash of white wine is traditionally used when preparing compound butter -- add a drop or two of red wine for rose-colored butter.
Prepared mustard provides a familiar bite and deepens the shade of the butter, but remember it will loosen the texture of the compound -- substitute powdered mustard if you have already added another liquid. The same rule applies to prepared and powdered horseradish.
If you're in the mood for a sweeter butter, try adding honey or maple syrup. We love adding a pinch of cayenne to sweet butters for an unexpected kick.
Other Mix-Ins
Add minced sun-dried tomatoes, citrus zest, or olives to the mix for a compound butter that is particularly good with seafood.
Crisp, cooked bacon sneaks pockets of smoky flavor into the already indulgent package.
Roasted garlic compound butter complements everything from roasted potatoes to veggie burgers.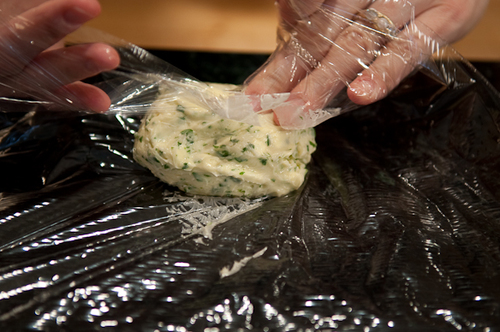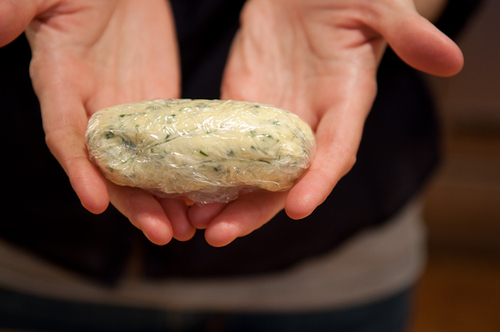 Wrapping the compound butter in plastic wrap
Recipes
Corn on the Cob with Feta and Herbs
Sun-Dried Tomato and Basil Butter
Grilled Swordfish with Tangy Compound Butter [FOOD52]
Wishbone Roast Chicken with Herb Butter [FOOD52]
Radish and Herb Butter Roll [FOOD52]
Horseradish Compound Butter [FOOD52]

All photos by Sarah Shatz.
What flavorings do you add to compound butters? How do you use them? Share your cooking tips and serving suggestions in the comments section below.
Like this post? See last week's From Scratch topic: Spring Herb Primer.