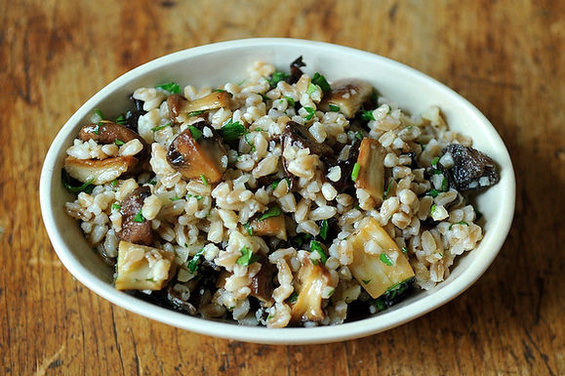 As Memorial Day picnics and potlucks approach, shrug off potato salads and coleslaw, and arrive in style with protein-packed, texturally interesting grain salads. Barley, bulgur, wheat berries, Kamut, millet, and farro work well alone, but don't be afraid to mix and match -- grain salads provide ample opportunity to use up those loitering bits sitting in near-empty jars in the pantry. As a bonus, many of these grains are gluten free.
Preparing the Grains
Each of these grains has a different cooking time -- fine bulgur needs just a quick soak in hot water, while Kamut requires about an hour of simmering. You can find basic instructions for several types of grains here.
If you plan to mix your grains, consider adding them one at a time to the cooking liquid so that they finish cooking together.
For smaller grains like quinoa and millet, cook until the liquid has been absorbed, then fluff with a fork.
For larger grains like farro and kamut, drain off the cooking liquid, then coat the grains with a tiny bit of oil to prevent clumping.
Adding Flavor to the Pot
Seize the opportunity to sneak extra flavor into the grains while they're simmering in the pot.
Bay leaves scent the cooking water with their delicate, floral perfume and amp up the intrinsic earthiness of the grains.
Add a hunk of fresh ginger or section of smashed lemongrass for an Asian vibe.
For a Southwestern groove, toast whole cumin seeds and a small dried chile in the pot before adding the grains and cooking liquid.
For grains like bulgur that only need a soak, add lemon juice to the soaking water to brighten the flavor.
Getting Dressed
Toss the cooled (or warm if serving immediately) cooked grains with a bold vinaigrette or a favorite creamy dressing.
Dress the salad 20 minutes before serving so the flavors have time to meld -- much less and the flavors won't meld; much more and any acidic notes will become dull.
Creating Balance with Other Ingredients
Blanched green beans, roasted mushrooms, and wilted greens should be cooked then cooled completely before adding them to the grains. Alternatively, massage chopped raw kale with a little olive oil and salt and let it sit while the other components are prepared.
Shredded raw carrots or cabbage, slivers of sweet peppers, and sweet onions add desirable crunch.
Add cooked chickpeas or lentils for more protein.
Crumbly cheeses are best for grain salads -- choose Parmesan, feta, or ricotta salata.
Toss in toasted walnuts, pine nuts, sesame seeds, or sunflower kernels for a nutty edge.
Create a bed of salad greens or buttery bib lettuce for your grain salad, or toss peppery baby arugula right into the mix.
Spring herbs add vibrancy and a fresh pop of color.
A Few of Our Favorite Combinations
Try bulgur with a Mediterranean bent: orange segments, meaty olives, parsley, and brined feta.
Farro has an earthy quality that is right at home alongside mushrooms, bitter greens, and walnut oil.
Mild-mannered millet can be enhanced by sweet ingredients for a hearty breakfast. Try adding stone fruits and a touch of maple syrup.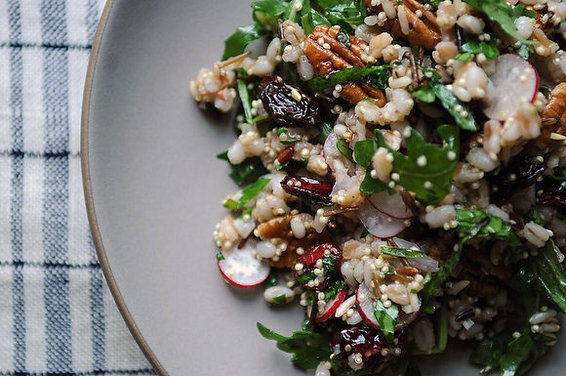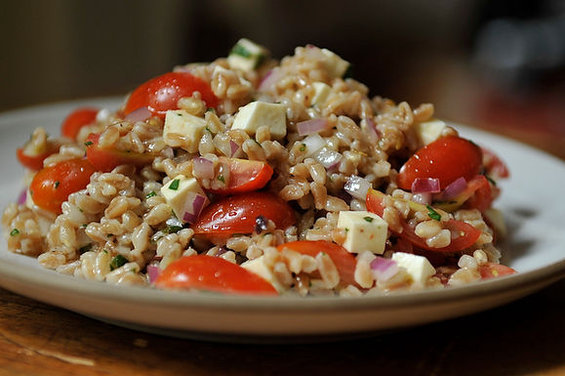 Recipes
Tuscan Lunch Salad
Orange Ginger Bulgur Salad
Pearled Barley, Corn and Tomato Salad with Avocado Pipian
Tomato, Basil and Millet Salad
Three-Bean Salad with Quinoa
Farro Salad with Roasted Mushrooms and Parmesan [FOOD52] (pictured at top)
Radish and Pecan Grain Salad [FOOD52] (pictured above, left)
Summer Farro Salad [FOOD52] (pictured above, right)
All photos by Sarah Shatz.
Do you have any go-to recipes for grain salads? Is there a grain you're excited to try in this style? Share your cooking tips and ideas in the comments section below!
Like this post? See last week's From Scratch topic: Compound Butter.