Photo by Joseph De Leo; styled by Mariya Yufest
Shellfish are plentiful in the summertime and we're (almost) embarrassed to admit how often we use our grills, so why not set the two summer standbys up on a date? Grilling shellfish over direct heat imbues them with a smoky quality and gently stews the meat in the liquor surrounding their bodies. Though the timing can take a little practice, this technique produces an easy yet impressive appetizer or main course -- with minimal cleanup, to boot.
Bivalve Planning and Preparation
Oysters, clams, and mussels are bivalves, which are characterized by two hinged shells and a flat, compressed body. Scallops are bivalves, too, but unlike the first three, we typically find scallops without their shells.
Thoroughly scrub oysters with a brush under cold running water. Though it's not entirely necessary, shucking the oysters (removing the top shell) will make them easier to manage on the grill and will also prevent overcooking.
Clams need to be scrubbed as well, and may need to be purged of sand (they tend to bury themselves in the sand unlike their bivalve cousins).
To purge clams of sand, submerge them completely in salt water (adding cornmeal is thought to whiten the meat) for at least 30 minutes. The salt water relaxes the clams, and they will expel excess sand on their own using the same filtering process they employ in the ocean.
Mussels should get a good scrub, too, and also be debearded. The "beard" is the fibrous bunch of threads that allows the mussels to anchor themselves in the water. Remove the beard with a concentrated side-to-side pulling movement and well meaning tug.
If serving grilled bivalves as an appetizer, plan for 1/2 pound per person; if they will be the main event, purchase 3/4 pound per person.
Getting Your Grill On
Build a very hot fire, but let the flames die down so they can't reach the grill grate.
Place the bivalves on the grill grate and use the gaps to secure the shellfish in the flattest possible position.
Oyster shells have more bumps and grooves than clam and mussel shells, so they may need a little extra help getting settled on the grill. Try filling a small, heat-proof sauté pan with rock salt and nestling the oysters into the salt for added stability.
Cover the grill to let the heat build and allow the shellfish to steam.
If grilling shucked oysters or clams, add a dollop of butter to each shell as soon as you place them on the grill. This extra fat will protect the shellfish from overcooking and produce an instant, self-contained sauce.
The shellfish are fully cooked when their shells open (about 4-8 minutes). Discard any shells that remain closed after 10 minutes on the grill.
Shucked oysters and clams are ready with the meat begins to curl at the edges -- they should be plump and only barely shrunken.
Have tongs and a serving platter within arm's reach, as you'll need to carefully transfer cooked shellfish off the grill as soon as they are cooked.
Time to Eat!
In the base of a serving bowl, toss grilled bivalves and their liquor with a knob of compound butter, a handful of chopped fresh herbs, and/or a batch of grilled summer vegetables cut into bite-size pieces.
For a more individualized preparation, arrange the grilled bivalves (still in the halfshell) on a platter and sprinkle them with a herb vinaigrette, thin pesto, or fresh tomato salsa.
Contrast the tender flesh with a bit of crunch: arrange a pair of shucked bivalves (of the same type) on olive oil-brushed crostini.
Grilled bivalves can hold their own against strong flavors like spiced sausage and bacon -- try them in a Spanish-style chorizo and lemon preparation.
And, of course, the simplest solution is to just serve them with a loaf of crusty bread to soak up the natural juices.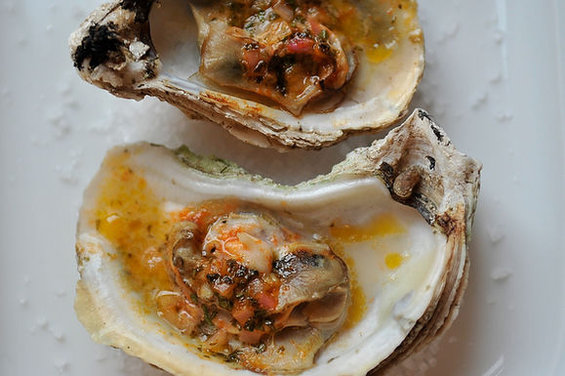 Grilled (or Broiled) Oysters with a Sriracha Lime Butter (photo by Sarah Shatz)
How do you grill bivalves and other shellfish? Share your cooking tips and serving suggestions in the comments section below.
Thanks to Whole Foods Market Old Town's cooking coach, Michael Kiss, for suggesting this topic and contributing several of the concepts.
Like this post? Check out last week's From Scratch topic: Chilled Soups.