Food writer and cooking instructor Christine Rudalevige is a mother of two who recently navigated a family move from agriculturally rich central Pennsylvania to coastal Maine. Eating locally now means more fish on the dinner table. In this biweekly column, Fish on Fridays, she explores family-friendly ways to enjoy sustainable seafood.
Today, Christine attempts to put some Italian traditions back into her blended family's distinctly Eastern European rendition of the Christmas Eve Feast of the Seven Fishes while making sure all the protein comes from sustainable sources.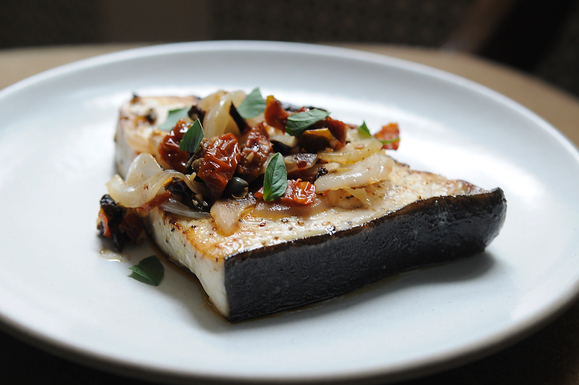 Sicilian-Style Swordfish [Food52] (photo by Melanie Einzig)
The Feast of the Seven (Sustainable) Fishes
The Feast of the Seven Fishes celebrated on Christmas Eve commemorates the wait for the post-midnight arrival of the holy babe. The feast itself is called Festa dei sette pesci; the process of waiting for the Christ child is referred to as Vigilia di Natale. From the names, you can gather that this feast has a very long, Italian lineage. So do I. Both of my parents spring from Italian roots on their mothers' sides.
That said, this particular culinary tradition made its way to my table not from Italy, but from Poland via Scranton, Pennsylvania. My husband's paternal ancestors were devout Catholics who followed a regimen of abstaining from eating meat on Friday throughout the year and on the occasional holy day. And they were very big on fish on Christmas Eve. But the number of fish served was never seven because money was tight. It was closer to three or four.

Pan-Fried Smelts with Harissa Lemon Aioli (photo by Christine Rudalevige)
There were always pickled herring, fried smelts, and whiting, according to my father-in-law. And in a good year, it would also include whatever else these Poles -- drawn to the mountainous, land-locked region by jobs in the coal mines -- could afford to include in their spread.
That generation had a more economically pointed definition of sustainability as far as their fish selection was concerned. The times have changed such that we all now share on the eve of December 24 dishes featuring lobster, shrimp, and swordfish. But in one of those coincidentally convenient cycles of life coming back around, I'm struck that each one of the Christmas Eve staples back when times were tougher are considered a sustainable seafood choice now.
Atlantic Herring (mostly caught here in the Gulf of Maine) is considered a "good alternative" by the Monterey Bay Aquarium Seafood Watch. Overfishing herring, though, could affect other marine mammals that consider this fish to be particularly delicious (not to mention essential to their diet). So eating less is better. We typically take a few pieces of pickled herring, a distinctly Eastern European delicacy that has enjoyed popular resurgence of late, with a sour cream cap on top of a lightly dressed salad of lettuce and sliced red onion, accompanied by a few rye crackers.
Then and now, smelts got and get featured at the feast because they are cheap and plentiful, making them a good sustainable choice as deemed by many seafood watchdog groups. We readily eat these four-inch fish headless, fried crisp in cornmeal year round as they are easily found frozen (see my previous post for more on this topic).
Whiting -- also called silver hake, and when they are larger, look and cook up a lot like other ground fish like cod, haddock, pollock, and hake -- is no longer a staple at our Christmas Eve table because my father-in-law cooked up a bad batch once, souring him on the prospect since. I guess he holds a food memory grudge. But I don't, at least not against whiting, so I might be so brazen as to suggest we try somethink akin to whiting this year! Since it is an easy substitute for less sustainable Atlantic cod, I could braise it with some Spanish chorizo (Vatican II erased the requirement that days like these be totally meat free) and clams, and that would take care of two fish in one bowl (see the recipe for this dish below). That would put us at four total.
Now, I think I need to explain that I'm not cooking the fish feast this year due to a kitchen renovation, but a girl can dream, right? Given that my locale is so close to some of the Northeast's greatest scallop beds, I would definitely slip in a few curried mollusks wrapped in bacon (see recipe here) as a passed appetizer with a bit of bubbly to kick off the occasion.
Since I've presented the courses a bit out of order, let me recap the order in which I would serve them: Fish 1: Scallops; Fish 2: Pickled Herring; Fish 3: Smelts; Fishes 4 and 5: Whiting/Hake and Clams.
Fish 6 would definitely need to get a little pasta into the mix -- not only because I feel the need to get the Italian aspect embedded in our new blended family tradition, but also because I am currently feeding a 14-year-old boy, with hollow legs and feet the same size as his age. Seeing as I can't get much more local than Maine lobster, I'd run with this Lobster Diavolo, a recipe for lobster and pasta tossed in a light red sauce created by Food52 co-founder Merrill Stubbs.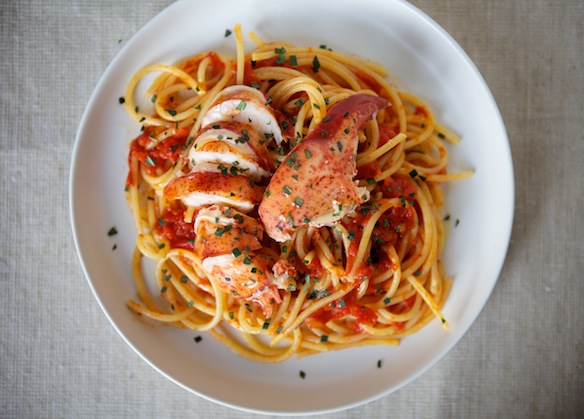 Lobster Diavolo [Food52] (photo by Nicole Franzen)
I'd round out this menu with what has become a staple in my particular branch of the Rudalevige line because my mother-in-law simply adores it: Swordfish. Probably one of the first fishes to raise eaters' awareness to the issues of both stock depletion and unsustainable fishing practices back in the late '90s, measures taken to replenish the supply have worked, and this meaty fish is back on the sustainable seafood menu.
Seeing as you've got to juggle stovetop real estate when preparing this sort of feast, I think I would use the sauce from cucinettaNYC's Sicilian-Style Swordfish (pictured at top, another Italian implant on the table!), but I'd choose to broil the fish, make the sauce ahead of time, and reheat it very quickly for service.
There, I've lined up my dream menu for my own personalized Feast of the Fishes. Now I've got to work my magic on my father-in-law to make him think these additions were his ideas. Wish me luck as I wish you "Buon natale!"
Brothy Atlantic Ground Fish with Clams and Chorizo
Serves 4-8 depending on what else is on the table
1/2 cup AP flour
1 medium sweet onion, diced
Salt and pepper
1/2 teaspoon smoke paprika
2 Tablespoons olive oil
2 ounces Spanish chorizo, chopped
1 1/2 pounds of filleted North Atlantic ground fish such as hake, flounder, cusk, or a large whiting, sometimes called silver hake (portioned into 3-ounce pieces)
4 cloves garlic, crushed
1/2 cup white wine
1 cup seafood broth (you can substitute clam juice if necessary)
3-4 Thyme springs
Chopped parsley for garnish
Crusty bread for slopping up the broth
See the full recipe (and save and print it) here.
Like this post? See Christine's previous topic: A Holiday Party Full of Bubbly and Seafood.
Christine Rudalevige is a food writer, culinary instructor at Stonewall Kitchen, and mother of two who always fits in three square meals a day -- which occasionally means making up for a skipped breakfast with an ample late-night refrigerator raid.