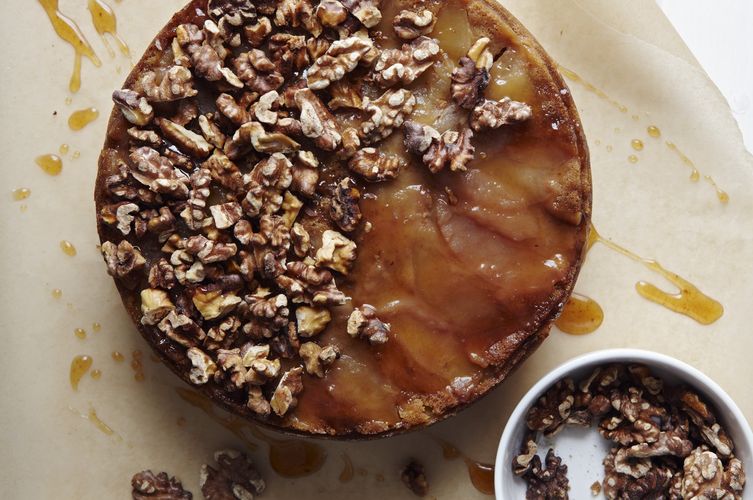 Brown Sugar Apple Upside Down Cake with Apple Cider Caramel and Spiced Walnuts [Food52] (photo by Joseph De Leo; styled by Mariya Yufest)

Utter the words "upside-down cake" and everyone's thoughts inevitably and immediately turn to cloying catastrophes saturated with canned pineapple and maraschino cherries. The upside-down cake has sadly suffered a saccharine fate at the hands of many a cook through the ages. Thankfully, while the American pineapple version continues to be made and (theoretically) enjoyed, a variety of international, updated, and frankly more appetizing renditions are out there to up the upside-down cake's street cred. We're here to do our part, as well, in fighting the good fight to win back this downtrodden treat's good name. Take another look with us at upside-down cakes and tarts, and you'll realize just how adaptable and delectable they can be.
Remarkably versatile, upside-down cakes lend themselves well to any fresh, seasonal fruit you happen to have on hand. They're also strikingly simple to put together, often with an easy caramel that can be made right in your baking vessel, and yield visually stunning results. Truly show-stopping desserts for literally any occasion or season, these upside-down underdogs will heartily reward those who give them a second chance.

Upside-Down, Round and Round (the World)

American Pineapple Upside-Down Cake
Sticky-sweet cakes covered with canned, sliced pineapple rings and dotted with maraschino cherries were a hallmark of many an American family's dinner spread in the 1960s and '70s.

French Tarte Tatin
Caramel-glazed apples, either sliced paper thin or peeled, cored, and used whole, rest on a base of pate brisee in this classic French dessert. To prepare, the apples and caramel are cooked in a skillet or designated Tarte Tatin mold. The dough is rolled out and placed on top of the cooked fruit, much like a pie crust, to be baked. When the crust is cooked through and golden, the whole shebang is flipped over onto a serving platter.

Brazilian Bolo de Banana
Very similar in style to traditional American upside-down cakes, this sumptuous caramel and banana dessert often features the fruits halved lengthwise and arranged in a fan-like design around the base of the baking vessel, revealing a sunburst of softened bananas when inverted to serve.

Delectable in Any Season
The unique inverted preparation and resulting presentation of these desserts puts on full display the cake's star ingredients; a soft, caramelized layer of ripe fruit takes center stage, and makes a particularly dramatic visual. Upside-down cakes can be made with almost any fruit, so pick what's at peak deliciousness that season and you're in business.
In fall, apples, cranberries, persimmons, pears, and fresh figs are in peak condition.
Winter is citrus season, and wedges of supremed Cara Cara or blood orange provide tart-sweet flavors to play against the rich caramel.
Celebrate spring and summer's bounty with juicy, fresh berries, half-moons of ripe stone fruit, deep red cherries, or even sliced mango atop a sweet, light base.
Fruit on the Bottom

Upside-down cakes generally consist of two main elements: a caramelized fruit base and a basic batter to be poured over the fruit, and then baked. The cakes can be made in a springform pan or even an oven-safe skillet (we like cast iron). Sometimes a thin layer of batter is spread in the base of the pan or skillet and fruit is pressed in, as in this Late Summer Plum Cake -- this step ensures that the fruit will stay where you place it and create as orderly or rustic a visual as you wish to present when the cake is inverted. Fruit can also be sliced very thin and layered across the bottom of the pan, a la Tarte Tatin, to create a scalloped or cross-hatched appearance.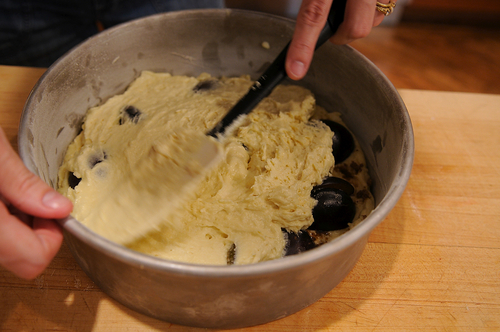 Spreading batter over a base of fruit (photo by Melanie Einzig)
A Dessert to Flip Over

Many upside-down cake varieties can be made a day or two in advance, making them especially easy for dinner parties or festive holiday meals (their dramatic presentation doesn't hurt, either). However, the caramel element of these cakes renders them best when served warm, so they can certainly be made the same day you wish to enjoy them. To invert the cake after baking, follow these simple steps to flip and serve:
Allow the cake to cool for a few minutes after you take it out of the oven before running a sharp knife or thin spatula around the edge of the cake to loosen it from the pan.
Place a serving platter face-down over the top of the cake, hold securely with both hands by both the bottom of the plate and the bottom of the pan, and flip so that the plate is placed face-up on the table, and the cake pan is resting on the plate bottom-up.
The cake pan should then slide easily off the cake, and you should be greeted by a decadent, caramelized fruit fan.
Warm or at room temp, the winning combination of fruit, caramel and cake can stand alone, or pair delightfully well with creamy, dairy-based accompaniments, like spiked or spiced whipped cream, or a scoop of decadent ice cream.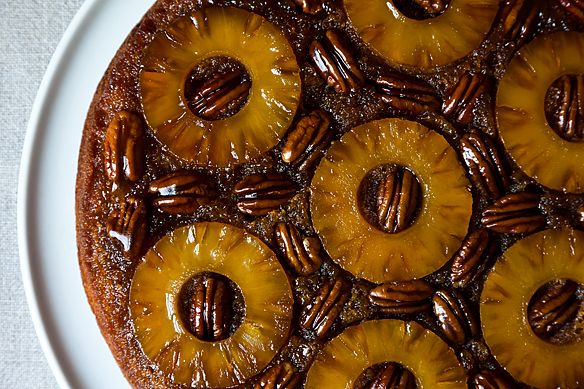 My Mom's Pineapple Upside-Down Cake [Food52] (photo by James Ransom)

Recipes
Mango Buttermilk Upside-Down Cake
Warm Pear Ginger Upside-Down Cake with Amaretto Whipped Cream
Caramel Apple Upside-Down Cake
Pear Tarte Tatin with Red Wine Caramel Sauce [Food52]
Brown Sugar Apple Upside Down Cake with Apple Cider Caramel and Spiced Walnuts [Food52]
Maple Persimmon Upside-Down Cake with Maple Cream [Food52]
Fields of Green Tarte Tatin [Food52]
How do you update age-old upside-down cakes and tarts? What's your favorite seasonal fruit to feature in these desserts? Share your comments below!

Like this post? Check out last week's From Scratch topic: All About Miso.