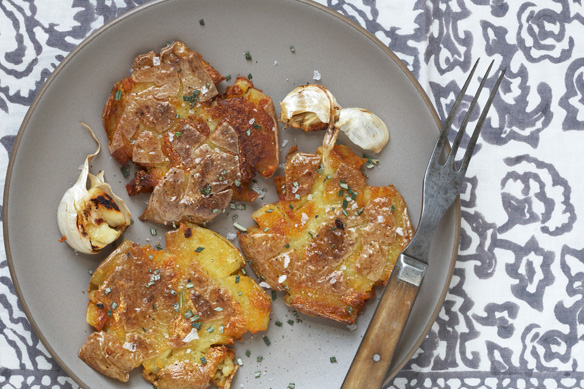 Squashed Potatoes [Food52] (photo by William Brinson)

In a desert-island scenario involving breakfast foods, potatoes might not be your first choice. But we think this versatile breakfast workhorse should be on the top of your list for go-to morning munchies, and here's why. Potatoes can serve as a fairly blank canvas upon which to paint any flavor profile you can dream up. But many potato varieties can bring their own unique taste to the table, as well -- simpler preparations coax out the subtly sweet and creamy flavors dormant just under the skin.
These starchy roots are perfect for the morning, as they're quick-cooking and filling as all get-out. Potatoes are also as versatile a vegetable as you could ask for. From whipping up a quick fry-up for a weekday morning to preparing an elaborate brunch spread to impress company, potatoes can go from high to low and back again with ease. Whether it be a red flannel hash, hash browns, home fries, frittatas, omelets, smashed or mashed, roasted or fried, potatoes can go the distance in a wide spectrum of early-rising recipes. Potatoes are in season almost year-round, so no matter what other veggies are fresh in the market, you can't go wrong by pairing them up with a creamy spud.
Spud Varieties
Perhaps the most impressive thing about potatoes is the sheer variety that exists. They can be large or small, waxy or starchy, and can be used in many dishes across multiple cuisines. While potatoes are relatively interchangeable, certain spuds are the superior option for specific dishes thanks to certain characteristics. For more information on everything potato, check out our Potato Primer. These are some of our favorite spuds when it comes time for breakfast.
Red Potatoes
These waxy potatoes hold their shape extremely well when cooked. They are perfect for cubing and roasting. Try your hand at this Red Potato, Spinach and Mushroom Hash with Poached Eggs.
Russets
These spuds are high in starch content and fry up beautifully. If you're looking for an extra-crunchy potato dish at breakfast, this should be your potato of choice. They also absorb cream incredibly well, making them perfect for gratins.
Yukon Gold
Essentially an all-purpose potato, Yukon Gold is great for many applications, especially shredded for hash browns and latkes.
Fingerlings
The naturally petite size of these potatoes makes them perfect for roasting, especially with lots of flavorful herbs and spices.
Sweet Potatoes
While actually related to the morning glory family, and not the potato, these tubers are often interchangeable with a regular potato. Their natural sweetness works well with both savory and sweet ingredients. They also make a glorious hash when diced up and cooked up with some delicious Merguez sausage.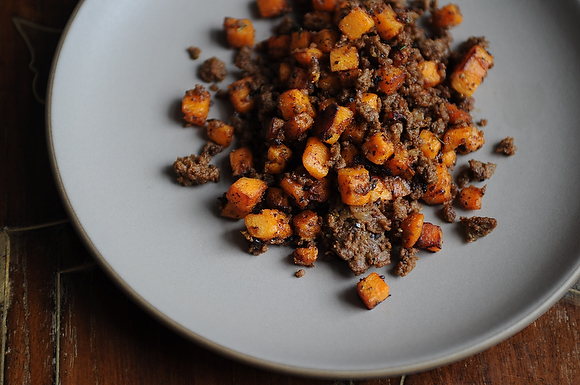 Merguez and Sweet Potato Hash [Food52] (photo by Sarah Shatz)
Add-Ins
As delicious as perfectly cooked potatoes are, admittedly, they can sometimes be a bit blasé on their own. There are many ingredients that are easily found in most refrigerators and pantries that can turn a plain old potato into a super spud. Potatoes and cheese or other creamy dairy are a match made in spud heaven. Smooth sauces and melty cheese bring out the creaminess inherent in potatoes, and nod to the touch of sweetness that emerges when potatoes are cooked. Don't be afraid to mix and match add-ins -- there are many combinations that will provide delicious results, so be adventurous! Some tasty combinations include:
Kale & Pancetta
Onions, Bell Peppers, Paprika, & Chorizo
Poblano Chile, Beef Brisket, & Hot Sauce
Garlic, Spinach, & Mushrooms
Leeks & Gruyere
Sausage & Cheddar
Turmeric, Green Chile, & Coriander
Sour Cream, Bacon, & Scallions
Preparation Techniques

Roasted or Fried
The secret to perfectly crisp home fries, either fried or roasted, is to par-boil your potatoes, which releases their natural starch and helps to crisp up the cut sides during cooking. Chop your chosen potatoes into ½ inch-large cubes and toss into salted boiling water for a few minutes, or until a knife inserted into a piece meets little resistance. Drain and toss with olive oil, salt, and spices before roasting or frying to your taste. Et voila - fully-cooked, delightfully crisp potatoes! If your recipe doesn't call for a par-boil, simply reduce the roasting or frying time so as to not overcook. Try it out with this gorgeous roasted potato medley.

Smashed
As in this simple recipe, wonderfully crisp fried potatoes are as easy as par-cook, smash in a skillet, and fry! The resulting flattened florets make a surprisingly beautiful alternative to standard cubed potatoes.

Shredded
Latkes and hash browns are crispy, rustic, and a snap to put together. Swap in some sweet potatoes for a toasty golden hue and deeply sweet flavor.

In a Galette or Gratin
A larger, baked portion of potatoes makes a lovely addition to a weekend brunch table, or serves well as a one-dish breakfast for a small group. Line a puff pastry crust with finely sliced, creamy New potatoes for an elegant, savory breakfast galette. Or, combine the rib-sticking heartiness of breakfast potatoes with cheese and cream for a luscious gratin. Sweet potatoes also make a beautiful layered Anna gratin, to elicit oohs and ahs at a dressed-up brunch spread.

With Eggs
Eggs are a classic pairing for breakfast potatoes. Whether scrambled, fried or poached, it's hard to imagine a side of home fries without a portion of sunny eggs nearby. Eggs aren't just wonderful accompaniments to breakfast potatoes, though. You can also whisk up some eggs to bind cubed, sliced or shredded potatoes into an omelette, frittata, or Spanish tortilla, or even combine with hearty polenta, as in this casserole.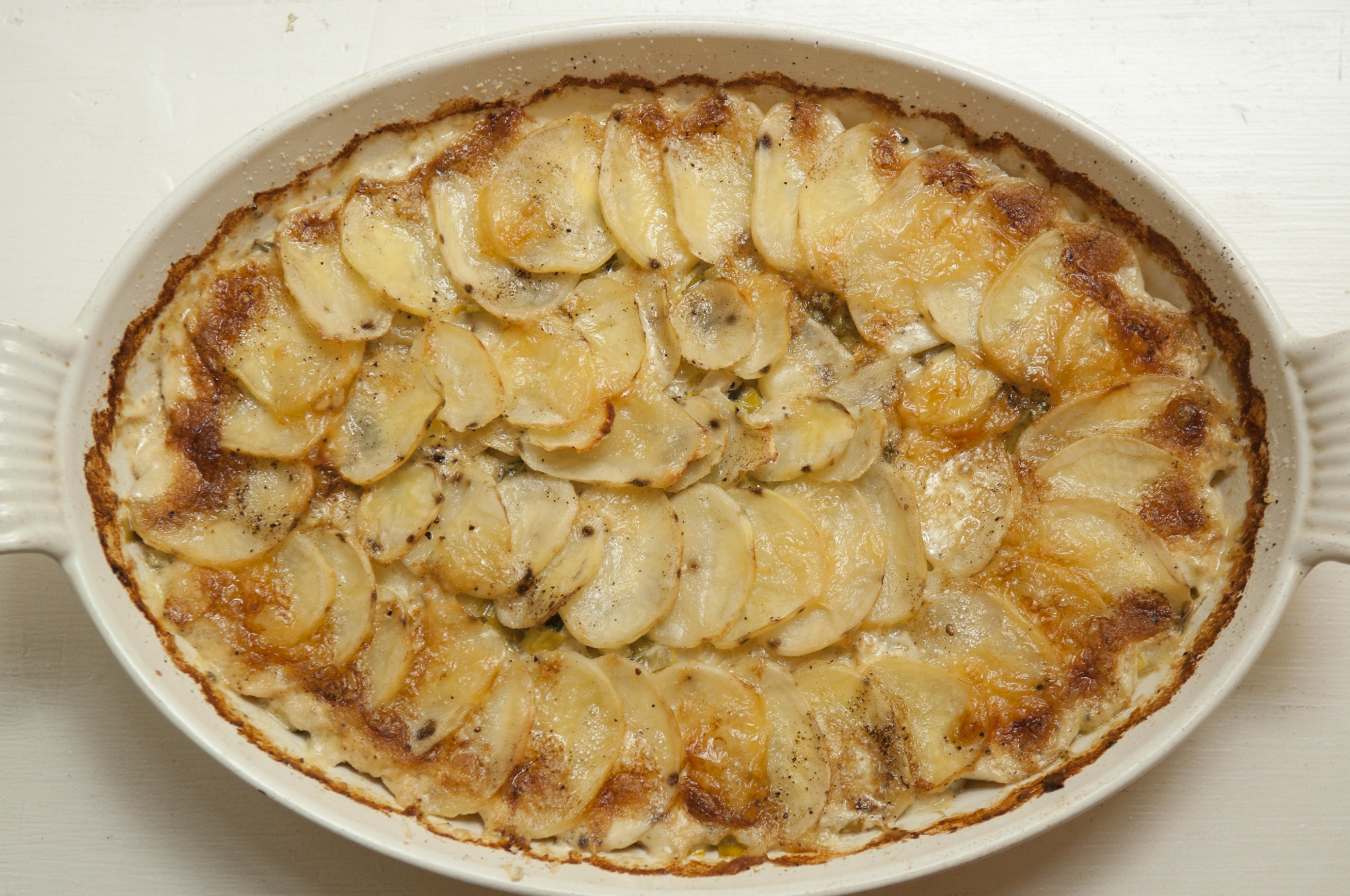 Potato Leek Au Gratin [Food52] (photo by Sarah Shatz)
Recipes

Morning Country Hash
Breakfast Home Fries
Patatas Bravas with Double Garlic Aioli
Orna & Ella's Sweet Potato Pancakes [Food52]
Sautéed Kale, Roasted Sweet Potato and Poached Egg Holiday Toast [Food52]

How do you like to dress up spuds for your morning meal? Share your comments below!

Like this post? Check out last week's From Scratch topic: Pasta Bakes 101.