Food writer and cooking instructor Christine Rudalevige is a mother of two who recently navigated a family move from agriculturally rich central Pennsylvania to coastal Maine. Eating locally now means more fish on the dinner table. In this biweekly column, Fish on Fridays, she explores family-friendly ways to enjoy sustainable seafood.
This week, Christine wades into the changing tides regarding frozen fish.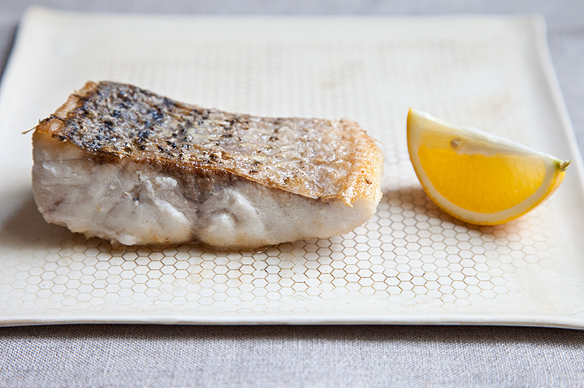 Photo by James Ransom
The Changing Texture of Frozen Fish
Some folks say I'm disjointed. Hard to follow. All over the place.
I'd argue they simply need to navigate the stops on my train of thought to figure out how I arrived at my final destination. Take, for instance, the conversation I had recently with an English friend during which she told me of how the very wet June followed by an insufferably hot July (for the English, that means 80 degrees) had yielded one of the best summer berry seasons for the Brits on record.
And I immediately started talking about my hopes for a new breed of frozen fish.
Ok, ok. In hindsight, I now understand her befuddled reaction to my reply. Let me explain, now, more clearly how my brain got between points A and B. I hopped the train at a plethora of good berries. My next stop was freezing some of them. I then moved on to the realization that modern berries, frozen whole to retain their individuality, have come such a long way from the hard masses of pulp I used to wrestle out of half-paper, half-tin cans for use in Jell-O salad as a kid. And, finally, I arrived at wondering if the process of freezing fish for future use has come as far.
Historically, frozen fish holds a stinky reputation for being mealy, dry and tasteless once it's thawed and cooked.
But the tide is changing for frozen fish, argues Barton Seaver – a former Washington, D.C.-based chef who last spring took over as both a New England Aquarium Fellow and Director of the Healthy+Sustainable Food Program at Harvard Center for Health & Global Environment in Boston. In his first book, For Cod and Country, Seaver tells home cooks to seek frozen fish out as it's often the best value for the money at the fish counter. Many commercial fishing vessels flash freeze seafood to subzero temps within hours of pulling the fish from the sea, thereby capturing the quality at its peak.
Nothing beats a fresh piece of fish cooked within hours of its being caught, says Hugh Fearnley-Whittingstall in his book The River Cottage Fish Book. "But a fish that is carefully frozen when still in good condition will beat an unfrozen, less than fresh specimen every time," wrote Fearnley-Whittingstall. Fish can be labeled "fresh" if it has not been previously frozen, but that label has no stipulation as to how long the fish has been out of the water and sitting (or not sitting) on ice.
Knowing they have a larger window in which to sell frozen fish over fresh counterparts, purveyors can then purchase bulk quantities of frozen at sea (FAS) fish and then can pass the savings on to the customer. And it doesn't need to be flown into far off places like fresh fish does, so it can take more environmental friendly modes of transportation to get to your table.
And, well, it's pretty darn convenient, too. A mid-week fish dinner is more likely to happen in my house if I just have to pull the fish from the freezer in between teeth brushing and running out the door, than trying to squeeze in a stop at the fish counter on the way home from work.
But the secret to success in cooking frozen fish is that you can't rush the thawing process. While you want your fish frozen in a flash at sea to help prevent ice crystals from forming in its cells which can leach flavor and collapse texture, you conversely want to thaw it slowly to prevent crystals from forming as it warms up. The best way is to move it from the freezer to the fridge 8 hours before you want to cook it. And you want to eat it within 24 hours of it being thawed. (NOTE: If the "previously frozen" fish at the counter catches your eye, look at it for an even color tone as any bleaching signals that it was thawed in water and ask when it was thawed. If the answer is longer than 24 hours, pass.)
I'm not going to lie, my bare naked fish cravings that involve only a bit of butter, lemon and sea salt are still going to involve fresh fish that I know was in the water the day before and hopefully caught by a fisherman I've met. But on days I want to eat some west coast halibut (Eastern fisheries are too depleted to consume) or I'm looking to take in some barramundi because it's both sustainable and adaptable, I look to recipes that add an interesting twist to the fish should the texture or flavor be just a bit off due to a whole in the frozen supply chain exist, like Saffron Scented Vegetable Couscous with North African Spiced Halibut (pictured below).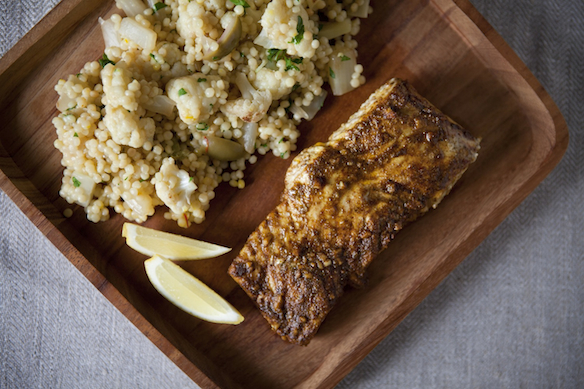 Photo by James Ransom
But if we're talking about a matter of convenience, I'm willing to use any flakey white fish as the carrier for a pantry Puttanesca crust that adds both flavor and texture and even a little olive oil to hedge my bets against dry fish.
Baked Frozen Fish Puttanesca
Serves 4
4 six-ounce frozen white fish (sustainable cod, flounder, hake, cusk, etc.) fillets, thawed for 8 hours in the fridge
4 green olives, pitted
4 black olives, pitted
1/4 cup sundried tomatoes in oil
1 tablespoon capers
1/4 cup chopped parsley
1/2 teaspoon red chili pepper flakes
1/2 cup panko bread crumbs
Olive oil

See the full recipe (and save and print it) here.

Like this post? See Christine's previous topic: Local Crab.
Christine Rudalevige is a food writer, recipe developer and tester, culinary instructor at Stonewall Kitchen, and mother of two who always fits in three square meals a day -- which occasionally means making up for a skipped breakfast with a late-night refrigerator raid.