With a shared passion for plant-based eating, Whole Foods Market healthy eating specialists Stephanie McCubbin and Tammy Karant are here to help you find your path to healthy living. They alternate writing this biweekly column.
Today, Tammy answers the call of our sweet tooth with a versatile cookie recipe.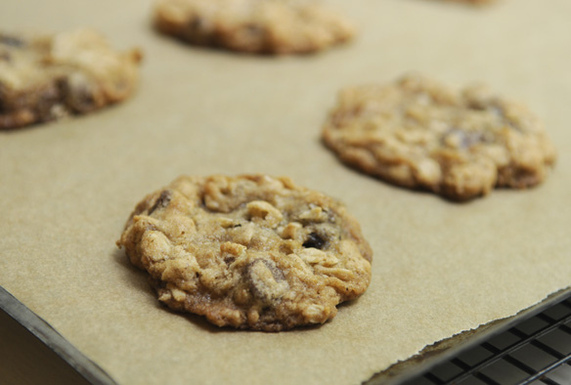 Photo by Melanie Einzig
- Tammy
I am giving up my guilty pleasure this month -- chocolate covered almonds. Although they don't sound too guilty, they've actually become quite addictive. It started with one or two after lunch, then a few more after dinner, and I finally realized it was a problem when I was reaching for them as an after breakfast snack. I knew it would all come to an end in September when I would lead a 28-day Healthy Eating Challenge -- and the rules do not allow for chocolate covered almonds. I am now going on my 14th day, free from processed sugars and sweets and doing great! However, I still find myself wanting a little afternoon snack. This wonderful little recipe landed on my desk just before the challenge started -- Banana-Oatmeal Snack Cookies, and they are just what I need. They consist of only 5 ingredients, are quick and easy to make, and add just enough sweetness to satisfy my cravings.
You can alter this recipe it in so many ways. Instead of using dates or apricots, I simply chopped up a ½ cup of raisins, as that's what I had on hand. Next time around, I think I'd like to try a mixture of cranberries and raisins, or even add in some toasted pumpkin seeds for a little extra crunch. I've found that the more oats you add, the crisper the cookies will get. But, if you like a softer cookie, keep the recipe as is and the banana will contribute to the texture plenty. Lastly, try adding a bit of cinnamon and a small amount of vanilla extract to make it even sweeter. These cookies are soft, chewy, and an easy alternative to a guilty pleasure!
Banana-Oatmeal Snack Cookies
Serves 6
2 ripe Whole Trade® Organic Bananas, mashed
1/2 cup 365 Everyday Value® Organic Unsweetened Apple Sauce
1/2 cup quick-cooking oats
1/2 cup finely ground walnuts
1/2 cup finely chopped dried apricots and/or dates

See the full recipe on WholeFoodsMarket.com.
About Health Starts Here®
The Health Starts Here® program promotes four pillars of healthy eating: Whole Food, Plant-strong™, Healthy Fats, Nutrient Dense. We also talk to customers about minimizing salt intake and eliminating sugars (exceptions are made for natural fruit sugars and small amounts of honey).
If you have any questions about the Health Start Here® program, send Tammy a direct message.
If you're in the Raleigh, North Carolina area, you can also stop by the Raleigh store to see her during the following hours:
Monday, Wednesday & Friday: 11:00 a.m. - 7:00 p.m.
For more healthy and easy recipe ideas, check out my Healthy, Easy Recipes class, which takes place the third Thursday of every month, at the Whole Foods Market on Wade Avenue in Raleigh.
Like this post? See Tammy's previous topic: Beet and Mint Slaw.
Tammy is the healthy eating specialist at the Whole Foods Market in Raleigh, North Carolina.