Leek Risotto [Food52] (Photo by James Ransom)
Sometimes, especially as the cold weather seeps in, we crave something indulgent. Risotto is a true stick-to-your ribs dish that we can recreate all season long. Today we are breaking down the steps to help you kick this meal up a notch.
The basics:
Risotto refers to a classic Italian preparation of rice. This special method results in a creamier, heartier grain-based dish. Here are a few things you will need on hand before starting: your short-grain rice of choice, some oil and/or butter, and some stock or broth for cooking. Since the grains soak up a generous amount of broth, a good rule of thumb is about 4 cups of broth to 1 cup of uncooked rice. Last, but certainly not least, don't forget any other flavors you want to add to the dish such as meats, fish, vegetables, cheese, and herbs.
The grains:
Risotto is typically made using arborio rice -- which is a short grain, high-starch rice. These short grains are key to the dish, as their make-up is ideal to soak up all the flavors you're about to cook into them. They become juicy, creamy, and hearty. Other types of short-grain rice that work well in a risotto-style preparation include carnaroli and vialone nano. For a heartier (albeit less authentic!) version, you can even try using whole grains like farro or millet.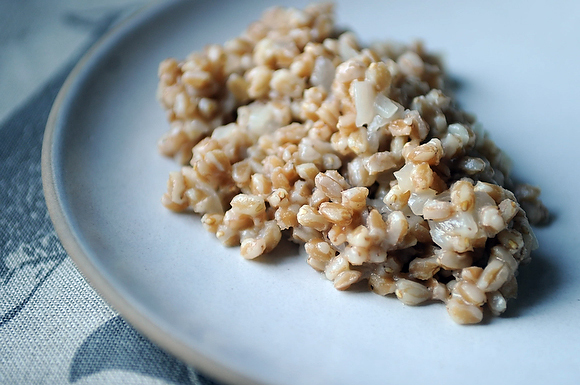 Farro Risotto [Food52] (Photo by Sarah Shatz)
Preparation:
There are a few simple steps to follow with any risotto preparation. Each part is amenable to all sorts of flavor profiles and textures -- but keep these simple rules in mind for a fail-proof dish.
Sauté Begin by adding your butter or oil to a heated pan, and sautéeing your vegetables. For a simpler dish, simply add a diced onion. You can add other veggetables such as diced celery, carrots, or garlic. Try getting creative and adding a protein such as diced prosciutto, bacon, or other diced meats to bring an added layer to the dish. If you really want to add flavor, try browning your butter first before sautéeing, for an extra nutty kick.
Cook Now that you've begun to build your risotto, toast your grains for a minute -- their nuttiness will be intensified by giving it a few minutes to marry with the fat at the bottom of the pan. Many recipes deglaze the pan with some wine -- adding yet another level of flavor. Then, slowly ladle in 1 cup of broth or stock at a time -- vegetable, chicken, or beef stock can all be used interchangeably. Don't forget to stir the rice frequently, as this is a crucial step in getting the broth to soak into your grains properly.

Adding broth to the grains. (Photo by James Ransom)
Season Throughout the cooking process, your grains will soak up the flavors of the broth. Don't be shy -- add in some other flavors along the way. Season liberally with salt, pepper, and other spices and herbs as you wish. To kick the creaminess up another notch, add in some shredded cheese.
Serve Risotto can be served as a main dish, or even as a hearty side. Finish by topping with your favorite protein such as shrimp or chicken. This is also a great opportunity to mix in other ingredients such as mushrooms, fresh herbs, peppers, corn, tomatoes, or any other favorite vegetable of choice.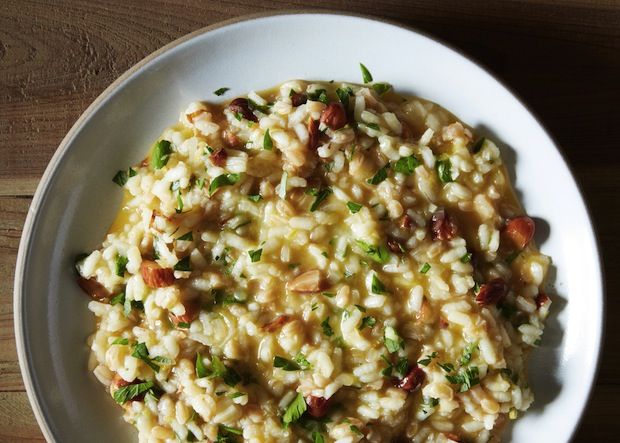 Lemon and Toasted Almond Risotto [Food52] (Photo by James Ransom)
Condiments:
As with any pasta or grain-based dish, the condiments and add-ins are as endless as your imagination. Pick some fresh seasonal ingredients, and get to cooking. Here are a few ideas to help you along the way.
Fresh herbs
Meats & fish
Fried vegetables
Toasted nuts
Shredded cheese
Fresh fruits
Beans & legumes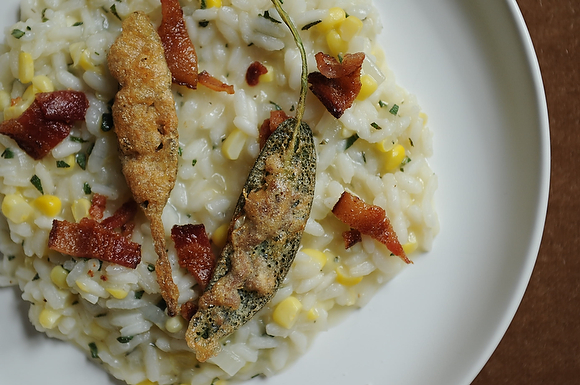 Corn Risotto Garnished with Bacon & Anchovy Sage Leaf Bite [Food52] (Photo by Sarah Shatz)
Recipes
What's your favorite way to prepare risotto? Thinking of trying it in a new way? Share your comments below!
Like this post? See last week's From Scratch topic: All About Tofu.