A healthy eating specialist at WFM Columbus Circle and WFM Union Square in NYC, Kelly Dupuis believes in eating foods without labels (an ear of corn, a ripe tomato). As a proponent of plant-based diets, she eschews packaged substitutes offering a quick fix. For Kelly, it's all about cooking from scratch. In her weekly column, Comfort Food - Refreshed, Kelly doesn't just adapt her favorite comfort foods to her plant-strong lifestyle, she reimagines them in original recipes with a wink to the past.
This week, Kelly makes sweet potatoes the star of her Thanksgiving meal.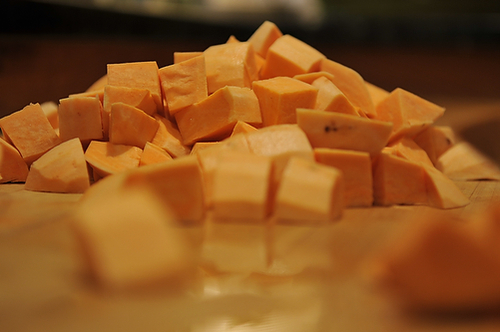 Photo by Sarah Shatz
- Kelly
As far as Thanksgiving goes, many consider turkey to be the star of the day. Some might say pumpkin pie. But for me, there's one thing I've got my eyes peeled for -- sweet potatoes. These are an everyday ingredient for me, but that doesn't take away from their special place on the holiday buffet. Right now, I have three sweet potatoes, fully baked, in my fridge. All set for any number of dishes. Honestly, just eating the peels with a bit of the sweet, creamy flesh still stuck to them, is one of my favorite snacks. That might sound a bit hippy-dippy, but sweet potato skins are a high-quality nibble in my book.
As far as Thanksgiving sweet potato dishes go, I have one big opinion about the state of things which might be controversial. I believe that sweet potatoes shouldn't be covered in marshmallows. You will not see a sweet potato casserole covered in marshmallows on my Thanksgiving table. Ever. It's just too much. It's just too sweet. And marshmallows put sweet potatoes in the backseat -- I don't believe this to be fair. They deserve to the star of the holiday casserole.
Sweet potatoes can happily play the leading role (or even a strong supporting role) in any number of dishes, at any time of year. Check it out. When you've got sweet potatoes left over after the holiday, look to these ideas.
Sweet Potato Millet Porridge. This cold weather concoction has millet and sweet potatoes working together to create a hearty bowl of breakfast grain goodness. Feel free to top with any number of chopped nuts, seeds or dried fruit for diversely textural elements.
Sweet Potato Spread. The cooked flesh of a large sweet potato blended with a 1/4 cup almond butter, a teaspoon of chili powder, a pinch of cumin, the juice of a couple limes, along with salt and pepper, provide the makings for a perfect spread for rice crackers, or dip for fresh jicama sticks.
Smoky Sweet Potato and Tofu Sandwich with Avocado. This is another recipe I've put on the blog to light the sweet potato fire. The combination of sweet potatoes and avocado is a divine one. Trust.
Make-It-Your-Own Sweet Potato Soup. 2 pounds of cooked, pureed sweet potatoes, plus 4 cups of vegetable broth, are all you need to start this soup off right. Flavoring the base with red or green curry paste, cinnamon and nutmeg, or fresh chopped basil and mint, will make this rich soup pop in a variety of ways -- all according to your personal taste!
Sweet potatoes are made for mashing. And smashing. And so we arrive at my official recipe of the week -- Smashed Sweet Potatoes with Baby Spinach. I've made russet potatoes smashed with collard greens in the past which nearly makes for a meal, if you ask me. That's my inspiration. You can steam the sweet potatoes, or bake them until soft. I leave the skin on for texture, and then get to smashing. I use Garnet or Jewel, with the orange-fleshed sweet potatoes -- because they're the sweetest, and I like sweet. I add apple cider for tartness and sweetness. The caramel-y notes go great with the sweet potatoes. Nutmeg, fresh thyme, and coconut milk add earthy spice, and a richness without dairy. Finally, I fold in several handfuls of tender baby spinach. The heat from the sweet potatoes will most likely wilt the spinach, but you can certainly warm the mix up over low heat. It's a side dish that includes your greens and sweet potatoes all in one, which is a big plus. And please, leave out the marshmallows.
Smashed Sweet Potatoes with Baby Spinach
Serves 4-6
2 pounds Garnet or Jewel sweet potatoes, cubed 1 inch for steaming/boiling or left whole for baking
1/2 cup apple cider
1/2 cup coconut milk
1 teaspoon dried thyme
1/2 teaspoon ground nutmeg
Sea salt and fresh ground black pepper to taste
5 ounces baby spinach
See the full recipe (and save and print it) here.
In the NYC area? Stop by for cooking advice!
Do you need help with maintaining a healthy diet? Drop by WFM Columbus Circle or WFM Union Square to chat with me about this recipe and plant-strong cooking tips.
If you're not in the area, send me a direct message or add your comments or questions below.
Like this post? See Kelly's topic from last week: Creamed Kale.
Kelly Dupuis is a healthy eating specialist at WFM Columbus Circle and WFM Union Square who delights in transforming comfort classics into deliciously satisfying and fun plant-based dishes.