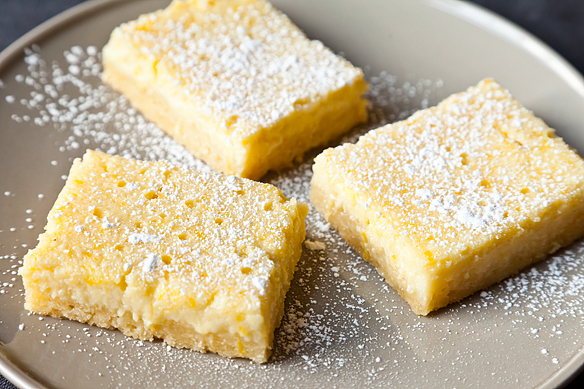 Lemon-Ricotta Bars [Food52] (Photo by James Ransom)
Whether you're going to a party, throwing one, or whipping up dessert for two -- there isn't much that's easier than a dessert bar. They're a real win-win -- easy to make, and easy to enjoy. All that's required for eating is your hands, and perhaps a napkin or two. Grab a knife, and let's slice some up together.
Popular variations:
While there are many ways to turn any dessert into the form of an edible bar, here are a few of the most popular categories to get you started.
Dairy-based Cheesecake is no longer just for cake. Use softer cheeses such as cream cheese, sour cream, crème fraîche, some eggs, and flavorings -- and a cheese bar is born. For a portable cheesecake, form a graham cracker crust in the bottom of your pan, and top with cream cheese along with another layer of graham crackers for good measure. Bake until set, chill, and slice for a decadent hand-held dessert.
Chocolate-filled The almighty brownie is not to be underestimated. Use melted chocolates, cocoa powder, and even added chocolate chunks for a bar for the chocoholics out there. Go traditional and bake unsweetened chocolate with eggs, sugar, and flour. Or try spicing things up a bit and infuse your brownie batter with dried chiles for a heated treat.
Blondies Using the same method as a brownie batter, skip the chocolate and substitute brown sugar for a whole new result. Add melted butter to brown sugar, an egg, some vanilla, and some flour for a simple base you can add a plethora of ingredients to such as chocolate chunks, dried fruits and nuts -- or even substitute gluten-free flours for a dessert anyone can enjoy.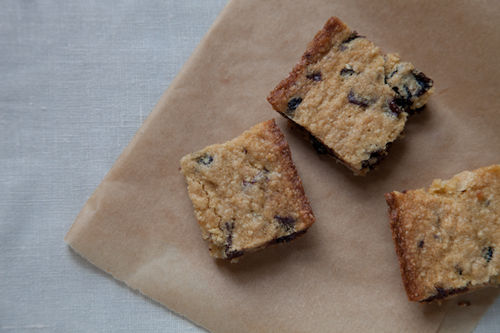 Blondies -- Gluten Free and Completely Delicious [Food52] (Photo by Jennifer Causey)
Fruit filled Many fruits can easily be made into a custard and baked into a delicious bar. Line your pan with your favorite crust, such as shortbread, and top with a layer of curd, fruit jam, or even fruit pie filling. Bake as is, or even top it with more crust to get a whole new type of fruit fix after dinner.
Layered Who's to say dessert bars have to contain only one type of filling? Try combining a few for an entirely new creation. Top a chocolate graham cracker crust with a layer of cream cheese custard, and top with a chocolate ganache for a layered bar worthy of any dessert lover.
No-bake Don't be fooled -- sometimes the best dessert bars don't require the use of your oven. Combine layers of ingredients in your pan, and let them settle in the fridge or freezer for ultimate enjoyment. Ingredients such as melted chocolates, chopped fruits and nuts, peanut butter, and even ice cream can lend a hand. Create an easy snack on the go by layering peanut butter with honey, shredded coconut, and dried cherries for a no-bake treat. Or go the fudge route and shake things up a bit by using buttermilk and breadcrumbs for a super altenative dish.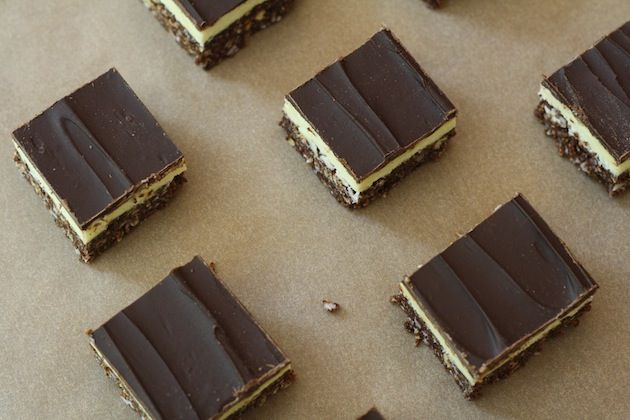 Nanaimo Bars [Food52] (Photo by Lillie Auld)
Creative updates:
The options are endless when it comes to dessert bar creativity. Whether you're craving a chocolate-based bar, or a fruit-laden snack -- here are some ideas to get you started when baking up a treat of your very own creation.
Fruits & nuts Make a jam for filling out of your favorite fruits -- or grind walnuts into a shortbread crust for a whole new textural component.
Marshmallow cream Fold marshmallow cream into toasted pistachios for a nougat-inspired bar, or dollop it on top of a cookie dough and brûlée for a fluffy result.
Cookie dough Take your favorite cookie dough batter, such as shortbread or chocolate chip, press into a pan, bake and cut into squares and drizzle with salted caramel sauce for a great dessert.
Streusel toppings Almost any bar can be topped with a streusel made from oats, brown sugar, some butter, and a little flour. Add your favorite grains, sugars, and spices to kick it up a notch.
Spices & herbs Fold ground cinnamon and cayenne pepper into a brownie batter for an extra flavor element. Or simply try adding dried rosemary or thyme to a shortbread cookie for an earthy element your guests won't soon forget.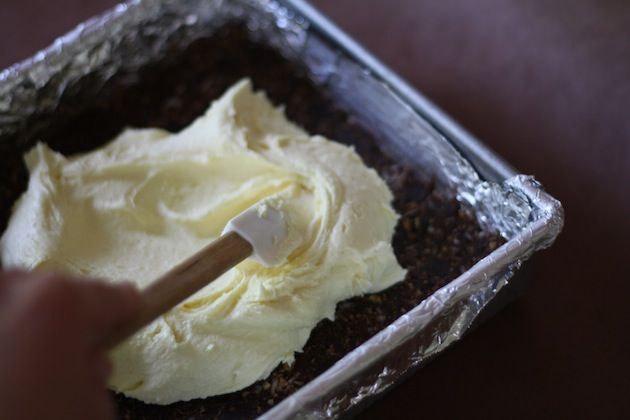 Topping graham cracker crust with whipped custard (Photo by Lillie Auld)
Nut butters From peanut to almond butter, their creamy-crunchy textures can be added to almost any bar. Add fresh almond butter to some flour, sugar, toasted almonds, and pile it on your favorite shortbread crust for a nutty treat.
Pie crusts & fillings Turn any pie filling into a bar. Press some pie dough into the bottom of your pan, top with a thickened fruit pie filling such as cherry and top with a streusel topping for a hand-held cherry pie.
Caramel sauce Drizzle scratch-made caramel sauce onto just about any bar for a finished sweet bite. Or go one step further and swirl it into your brownie batter for a salty-sweet surprise throughout each square.
Melted candies Fold your favorite chocolate-filled candy into a cookie dough, brownie, or blondie batter. Or even melt them and drizzle on top for an easier at-home sauce to finish your perfect dessert.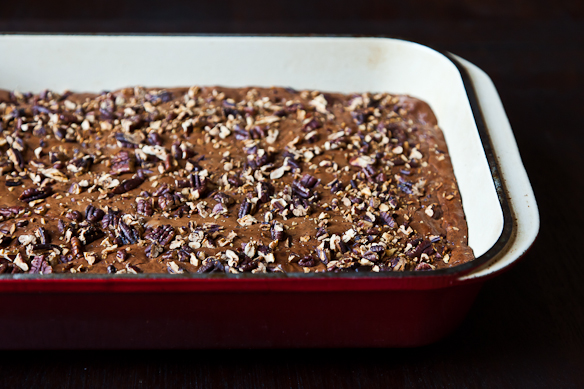 Fruitcake-Inspired Brownies [Food52] (Photo by James Ransom)
Recipes
What's your favorite way to enjoy a dessert bar? Looking for inspiration? Share your comments below!
Like this post? See last week's From Scratch topic: Party Dips.